Junya Ishigami
Kokage-gumo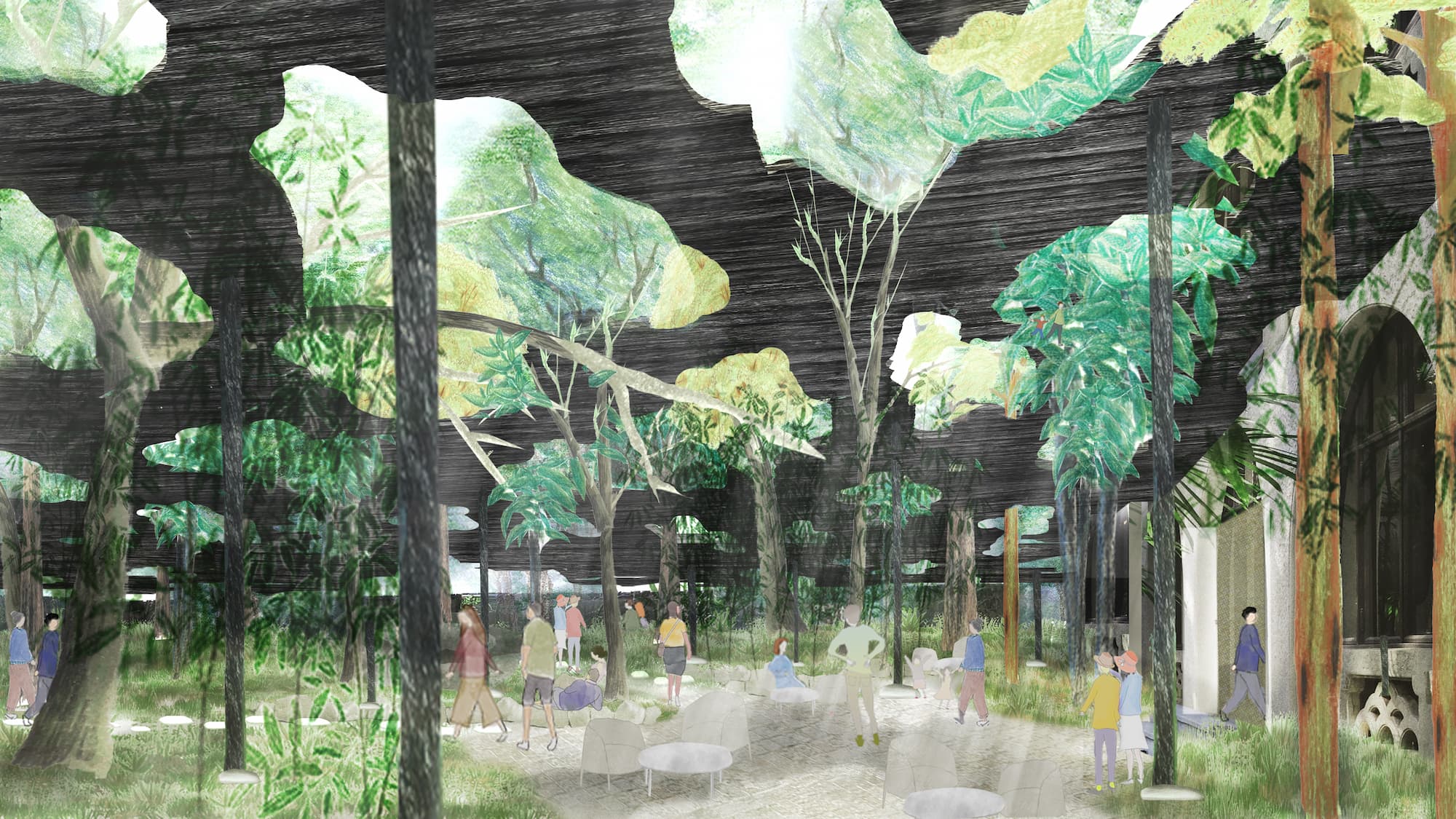 "I wondered if it would be possible to create an architecture that is new yet looked like it had always been there, which blended in with the historical landscape." (Junya Ishigami)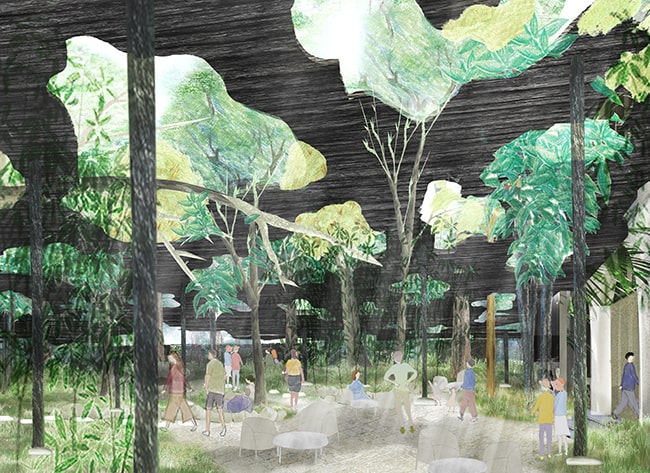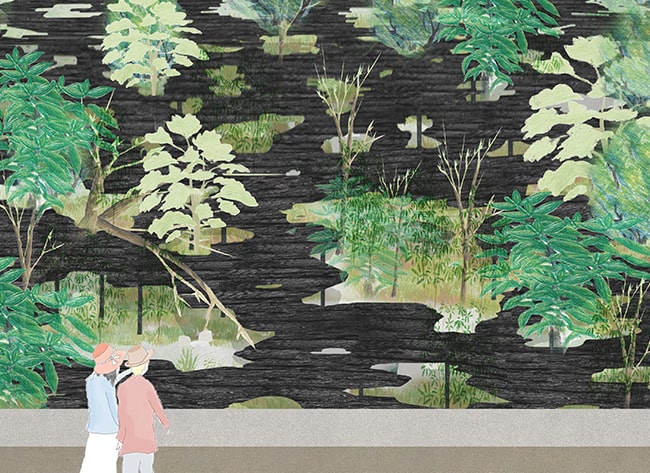 ABOUT
"There is an old residence in Kudanshita, which was built in 1927 (the second year of the Showa Period) by Mankichi Yamaguchi, a wealthy businessman. Architects including Tachu Naito, who designed the Tokyo Tower, were involved in its construction. In the old but beautiful garden of this residence, I built a canopy that gently shields us from the sunlight, which will be present only this summer.
In order for the newly built canopy to blend in with the historical scenery, I thought of giving it an aged look from the beginning. Specifically, I plan to fill the garden with wooden pillars and roofs, which have been burnt using the Yakisugi technique (traditional Japanese method of wood preservation by slightly charring the surface of cedar wood). By adjusting the fire heat, the surface of the cedar wood is carbonized, and some parts of the wooden structure are burned away. The wooden structure that spreads widely across the garden is burnt to form its flexible shape, so that it can be placed to avoid the existing old trees growing thickly in the garden. The carbonized jet-black wooden structure has a similar appearance to an abandoned house too. It looks as if it transformed from a new building to a ruined house, and underwent the transition of a building due to aging in an instant.
The black wooden structure covers and hides the surrounding skyscrapers which were non-existent in the early Showa period, and the countless beams of light that pour through the holes in the structure blend with the sunshine filtering through foliage. As the modern scenery that peeps through the trees disappears and the strong sunshine of the summer softens, visitors share the same ancient time that flows within the garden. The jet-black structure is the cool shadow that drifts in between the old trees on a summer's evening." (Junya Ishigami)
HOW TO VISIT
Venue: Garden of kudan house
1-15-9, Kudankita, Chiyoda-ku, Tokyo
Opening Hours: 10:00-18:00
Closed on 7/5、7/12、7/13、7/14、7/19、7/22〜27、8/2、8/10、8/16、8/23、8/30
Admission may be restricted and you may be asked to wait before entering. Advance reservations may be required. Please check here for the latest information.
Note: There is no dedicated parking lot. Please refrain from coming to the venues by car as parking is limited in the neighborhood.
Please Note:
Please note that there is a possibility that you may have to wait to enter the venue.
If you are waiting to enter the venue, please do not wait on the sidewalks around the venue, as this may cause inconvenience to pedestrians and neighbors.
Please be sure to walk on the cobblestones when walking in the garden to avoid damaging the moss and undergrowth by stepping on them. Please be careful not to step on the irrigation hose that crawls on the ground as it may cause damage.
The branches and leaves of the trees in the garden are very fragile, so please be careful not to grab the branches too hard or let your belongings hit the trees.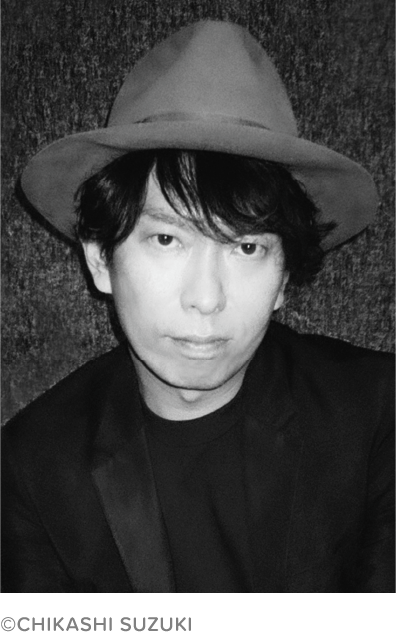 CREATOR
Junya Ishigami
Born in 1974. He acquired his master's degree in architecture and planning at Tokyo National University of Fine Arts and Music in 2000. After working in Kazuyo Sejima & Associates, he established his own firm in 2004: junya.ishigami+associates. He worked as a part time instructor at Tokyo University of Science, an associate professor at Tohoku University, and the Kenzo Tange Design Critic at the Harvard Graduate School of Design from 2014. His representative work is the Kanagawa Institute of Technology KAIT Workshop, Water Garden in Art Biotop Nasu, and Serpentine Pavilion 2019. He got many prizes; AIJ Prize for Architectural Design in 2009, and the Golden Lion for Best Project at the 12th Venice Architecture Biennale in 2010. He held a large-scale exhibition "Junya Ishigami, Freeing Architecture" in Foundation Cartier pour l'art contemporain in 2018.